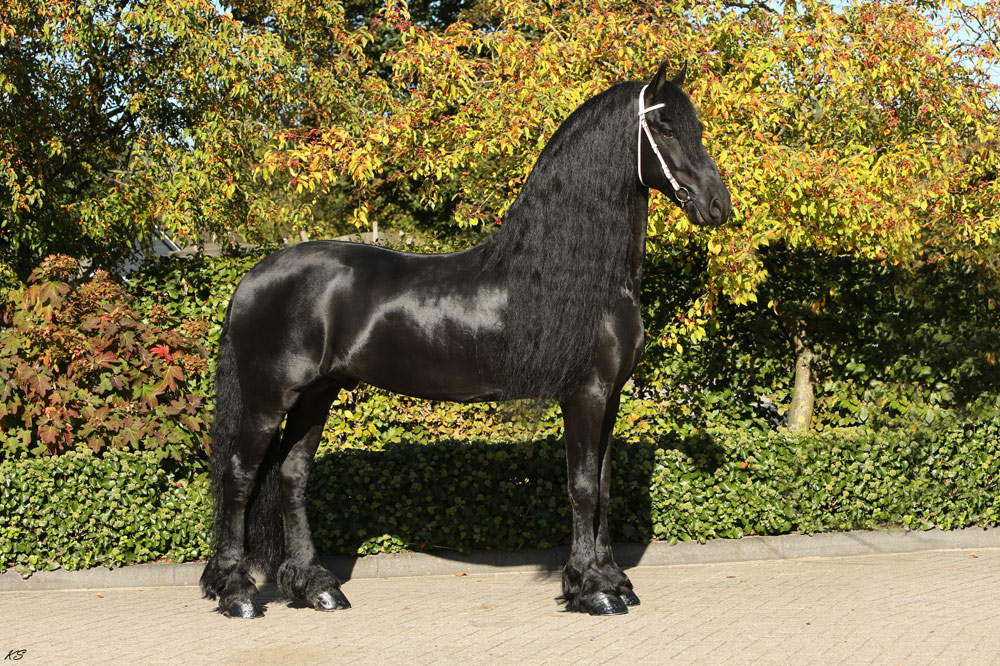 Date of birth: 2008
Height: 1.68M
PEDIGREE:
G1

G2

G3

Sire:
Felle 422 Sport
Lolke 371 (sport)
Oege 267 preferent
Zwaantje F Ster
Zorinda D Ster Pref
Gerlof 294
Ordina Ster Pref.
Dam:
Waldiena BL Ster
Tsjerk 328 Pref Sport
Feitse 293
Wijkje Model Pref. Prest.
Jildou fan Vriesburg pref.
Oege 267 Preferent
Ninke Ster
Alwin 469 is a very interesting stallion. As a foal this deep black pearl got a 1st premium. The mother of Alwin, Waldiena B. L. is a star mare but unfortunately died early although having 3 star offspring. The stallion performance test champion of the Central Investigation 2011 – Alwin was described as a friendly, attentive stallion. He moves with great tact and rhythm and suppleness. In all disciplines he gives, in particular through its active hind legs and balance, his trainers a very good feeling. The stallion has a great talent as a harness horse.
Alwin has a very nice head with beautiful eyes that are very appealing. This impressive stallion has transferred these positive characteristics to several of his offspring. In the breeding value index his descendants score very high on the space in the trot (113), supporting with a lot of balance and suppleness. They all have, like father Alwin 469, a beautiful silhouette, a deep black color, a willing character and a huge walk lust.
In recent years the daughters of Alwin were always placed in the lead, as Sanne TT. It was in 2014 junior champion in Delden and in 2015 Junior Champion in Drachten, where the trot was rewarded with a 9! The mare Valentina fan 'e Ridderdijk was also very successful. She was junior champion at the Central Inspection 2015 Junior Champion at the breeding day in Kootwijk. This was breeding day champion of the fillies; Zaza for the Meikade, another young Alwin 469.
Alwin 469 is currently being ridden by Nynke Mulder, the duo last season already achieved great results. The stallion showed regularly "in the long lines." Alwin 469 always manages to stand out in the various disciplines.
COVERINGS:
Semen being imported by Pela Graca Friesian Stud. For more information contact Dr Duncan Prinsloo on 0834626158