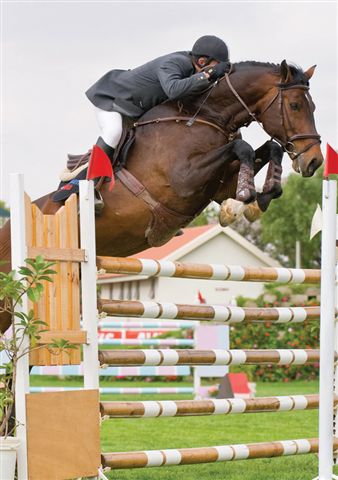 Clarinius was imported from Germany and is licensed by the South African Warmblood Society as a premium stallion.
Clarinius combines the best of the best, Contender, Capitol, Ramiro and Ladykiller xx. The influence of these stallions is felt the world over, the reputation of these progenitors of showjumpers is unsurpassable. Contender is one of the most sought after hereditary transmitters of today and is the undisputed top stallion in Holstein, with champions like Montender, (Individual Bronze and Team Gold at Athens Olympic Games with Marco Kutscher), Collin (winner of Hamburg Derby with Toni Hassman), Constantin (winner of the Munich Grand Prix with Murkus Beerbaum), Controe (Marco Kutcher) and the world fabulous showjumper, Checkmate. Capitol is among the best showjumper progenitors of the last decade, high calibre horses such as Cento (Olympic Team Gold Sydney 2000 and Athens 2004 with Otto Becker), Cardento (Team Bronze Athens 2004 with Peter Erickson), Olympic and Grand Prix winners, Carthago, Cassini I, Capriol & Canadian River, all descendants of this wonderful stallion.
Candida, the dam of Clarinius, produced besides Clarinius, the Holstein stallion Lentigo (by Locato) and is the sister of the stallion Coronino (by Corofino I). Nienburg (the grand-dam of Clarinius) is a1/2 sister of the International showjumper Cantini (by Capitol I) and his full brother, Holstein stallion,Catani. Clarinius is out of the very successful Holsteiner dam-line 730b which produced top stallions such as Caletto I & II.

PERFORMANCE:

Clarinius is jumping very successfully in the International classes with Paul Hart.
COVERINGS:
Fresh semen AI to select mares available.
For more information contact Dr Duncan Prinsloo on 0834626158