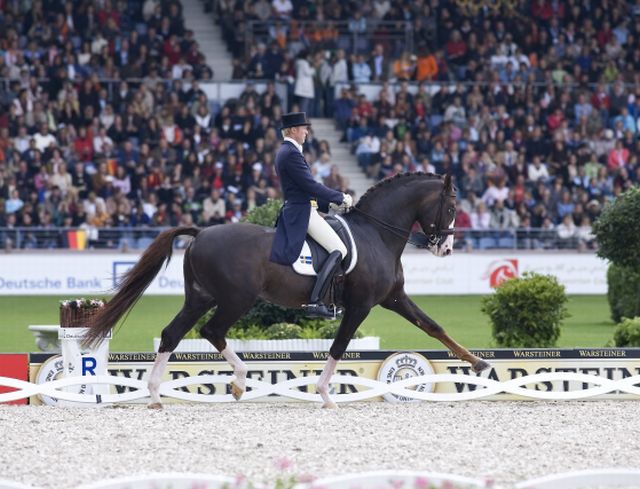 Year Born: 16.3hh
Height: 16.3hh
Stud Fee: €1,200.00 Live foal guarantee
A medium weight stallion, with long elegant lines, length of back and very correct conformation.
PEDIGREE:
MAGINI
b 1.62m 1982
SWEDISH WARMBLOOD
MARATON
dkb/br 164 cm 1976
SWEDISH WARMBLOOD
UTRILLO
dkb/br 1.65m 1962
HANOVERIAN
ERNOE
blk 162 m 1954
ANISETTE
ch 1953
FAIRY
br 1.62m 1970
SWEDISH WARMBLOOD
CARACAS
dk ch 161 cm 1959
FAIRITA
dkb/br 168 cm 1950
GABINETTE
b 1.57m 1976
SWEDISH WARMBLOOD
GANESCO
blk 1.63 m 1971
SWEDISH WARMBLOOD
UNESCO
br 160 cm 1962
GAKENDA IV
ch 1.61m 1954
OBENETTE
b 1.60m 1964
SWEDISH WARMBLOOD
OBELISK
ch 1.66 m 1957
GRYNET
CHARIS
ch 1.68m 1985
SWEDISH WARMBLOOD
KROCKET
b 1.68m 1978
SWEDISH WARMBLOOD
KALIBER
blk 165 cm 1974
SWEDISH WARMBLOOD
UTRILLO
dkb/br 1.65m 1962
CALNALLA II
blk/br 1.65m 1969
SKYFIRE
b 1.64m 1964
SWEDISH WARMBLOOD
TODDHURST
dkb/br 1.65m 1954
SPITFIRE
1945
MICKAELA
ch 1,64 1977
SWEDISH WARMBLOOD
ILLUM
br 1.65m 1972
HANOVERIAN
DER LOEWE
dkb/br 158 cm 1944
FEDER
br 1958
MEDEA
ch 1.61m 1971
SWEDISH WARMBLOOD
GASPARI
ch 163 cm 1949
DORRIT
b 1.60m 1965
Briar's pedigree is a combination of Swedish Warmblood and Hanoverian champion lines, with a touch of Thoroughbred. His sire, Magini 695, was by the Elite stallion Maraton 600, who fathered numerous Grand Prix dressage and show jumping horses, 6 Approved stallions and 54 Diploma mares.
Briar's dam's line, includes the outstanding mare, Medea who was by Gaspari 340, one of the most famous horses in the history of dressage stallions. He sired the legendary Piaff, who won the individual Gold Medal at the Munich Olympics in 1972.
ACHIEVEMENTS:
Briar was approved after his stallion test in 1995. He scored the second highest total points 57,2 and had the best scores that year for ridability. In 2006 Briar became Elite.
Briar was placed in all starts in the Championships for young horses as a 5-, 6- and 7-year old. He went to 8 World Cup finals, he has 7 gold medals from the Swedish Championships, and he did all the Equestrian Games during the last 10 years including 2 World European Equestrian Games and 3 Olympic Games. He also participated in the world's largest outdoor competition, Aachen in Germany, 10 years in a row, and won the Grand Prix 2005. He has had 16 international wins at Grand Prix level.
Briar has been the highest ranked dressage stallion (sports results) in the world almost continuously during 8 years. Together with his rider Jan Brink, they have been the most successful international couple historically in Sweden, regardless of discipline. No other horse in Sweden has ever come close to these results. Briar did his last competiton in Las Vegas 2009, that was his 8th World Cup Final.
PROGENY:
Briar has produced over 10 Approved stallions in 4 different countries. Of these, 2 sons have been stallion test winners in Sweden. He has also produced a large number of Diploma mares.
Briar is known for his temperament, strength and movement, which he consistently passes onto his offspring. Many of his offspring compete at Grand Prix level in both dressage and show jumping!
IMPORTING FROZEN SEMEN:
For more information contact Dr Duncan Prinsloo on 083 462 6158