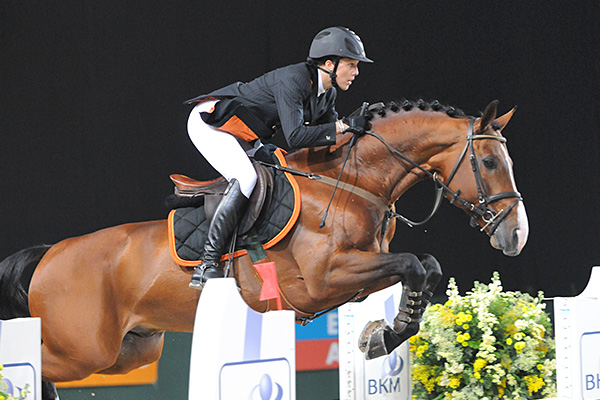 Date of birth: 2002
Height: 163cm
Licensed: AES, (SAW licence in progress)
PEDIGREE:
Ceblesse is by the Super Star Show Jumping stallion Darco, and his dam sire Voltaire is equally well-known. Both Darco and Voltaire have been ranked World Top 10 breeding stallions for jumping, and Darco was ranked No 1 for many years.
Ceblesse is closely related to approved stallions Ublesco, as well as Airforce HH (ex Ablesse), who both have proven themselves both in the ring and as breeding stallions. Airforce HH shares the same mother as Ceblesse, and Airforce HH jumped in the 160's by Ben Maher.
Looking at Ceblesse's pedigree alone, he should be considered one of South Africa's Most Valuable Stallions at the moment.
MERITS:
Ceblesse has own merits up to 150, and was one of the Top Ranked Young Horses in Belgium, before being exported to RSA, (see performance below). Currently since 2014, Ceblesse is ridden and competed by a now 16 year old junior girl rider.
PERSONALITY:
Ceblesse is a true gentleman and with excellent work ethics, whether he is at home or at shows. He always shows true braveness, and jumps with a superb technique.
HEALTH:
Despite his hectic and early career as a Showjumping he shows no symptoms of aging.
PERFORMANCE:
– 2nd in Championships of 5 year old Horses CSI3* Lummen
– In the Championships BK 5 year old horses Gèsves
– 4th 6 year old horses CSI2* Neeroeteren
– 3 times winner 6-year olds horses CSI2* Busto arsisio
– 1st ex-aequo 6 year old horses & 10th finale 6 year old horses CSI2* Hardelot
– 1st ex-aequo 6year old horses & 4th finalist 6year old horses CSI2* Fontainebleau
– 3rd 6 year old horses CSI2* Roeser
– 1st ex-aequo & 2nd 6 year old horses CSI2* Canteleu
– 6th 6 year old horses CSIO4*-W Praag
– 3rd 6 year old horses CSI3* Manerbio
– In the Championships BK 6 year old horses Gèsves
– 5th & 2 times 7th 7 year old horses CSI2* Hulsterlo
– 3rd 1.40m CSIO4* Lisbon
– 1st ex-aequo & 3rd 7 year old horses CSI3* Lons le saunier
– 4th 7 year old horses CSI3* Arezzo
–  3rd 7 year of stallions jumping Mechelen
COVERINGS:
For more information contact Dr Duncan Prinsloo on 0834626158