Palomino Sabino, Imported German Warmblood stallion
Colour Genetics:  Palomino – Single Dilute Gene (50% chance Dilute Foal)
Date of Birth:  2006
Height:  16.3hh
Breed Awards: Premium Fully Licenced Stallion SASHF
Premium Foal  Awarded  ZfDP
Premium Inspected by SAWHS
Registered: ZfDP, SASHF & SAWHS
PEDIGREE: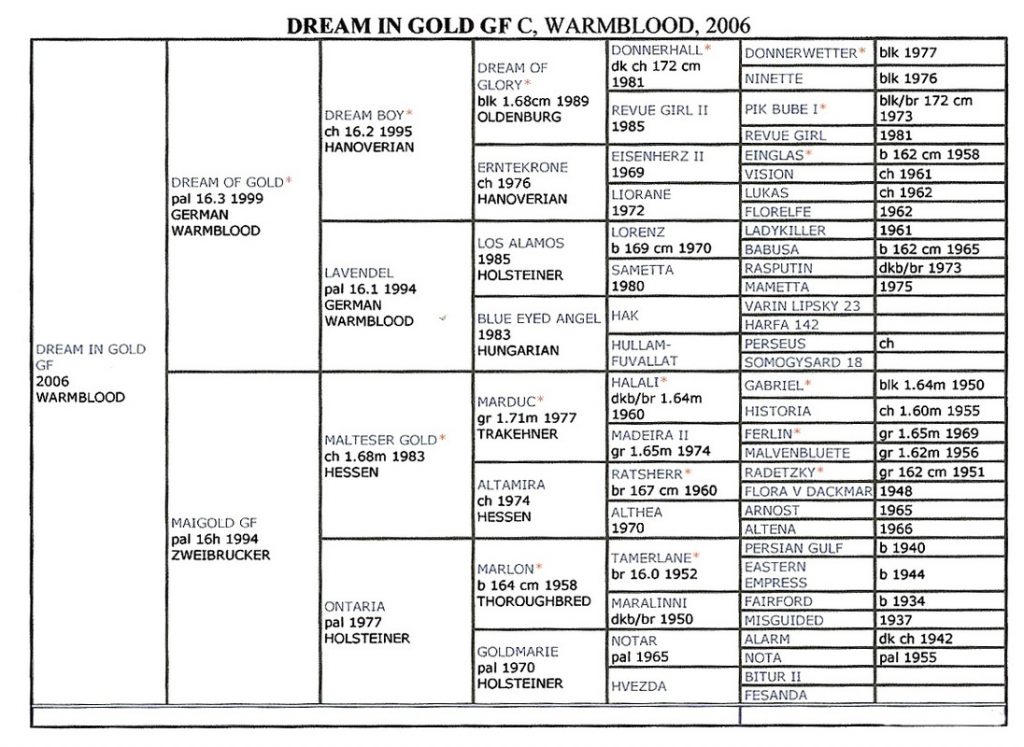 DREAM IN GOLD GF is by the Palomino "Verbandspremium" German Stallion, Dream of Gold out of Maigold GF (Malteser Gold x Marlon xx)
ACHIEVEMENTS:
Bred in Germany by Gwendolyn Gregorio at the Gestuet Falkenhorst Stud.
Premium Awarded ZfDP Foal and 2010 Premium Inspected by SAWHS.
Acquired from Nicky Whitfield in August 2012.
Dream in Gold GF is a 2006 Palomino Sabino, German Warmblood Stallion, who was imported from Germany, as a young colt, by Nicky Whitfield.
Dream in Gold GF is a fine example of a modern warmblood sport horse. He is ultra modern in type, and combines, beauty, balanced character, impressive bloodlines, conformation and movement all together in one package.  His golden palomino coat is an added bonus! Dream in Gold GF carries one dilute gene, so he has a 50% chance of producing a dilute foal to any mare.
Dream in Gold GF was awarded premium status at his foal inspection in Germany, with outstanding scores (8.5 Type, 8.5 Conformation, 8.0 Correctness, 9.0 Cadence/Elasticity and 9.0 Overall Impression) In 2010 he was again presented for inspection, this time to the SAWHS. The visiting overseas inspector was Mr Rik van Miert from Belgium (who is a highly respected and successful horseman and breeder in his own right). Once again, Dream in Gold GF impressed the panel of inspectors with his outstanding qualities, and went on to earn another PREMIUM award.
COVERINGS:
Fresh semen AI to select mares available.
For more information contact Dr Duncan Prinsloo on 0834626158