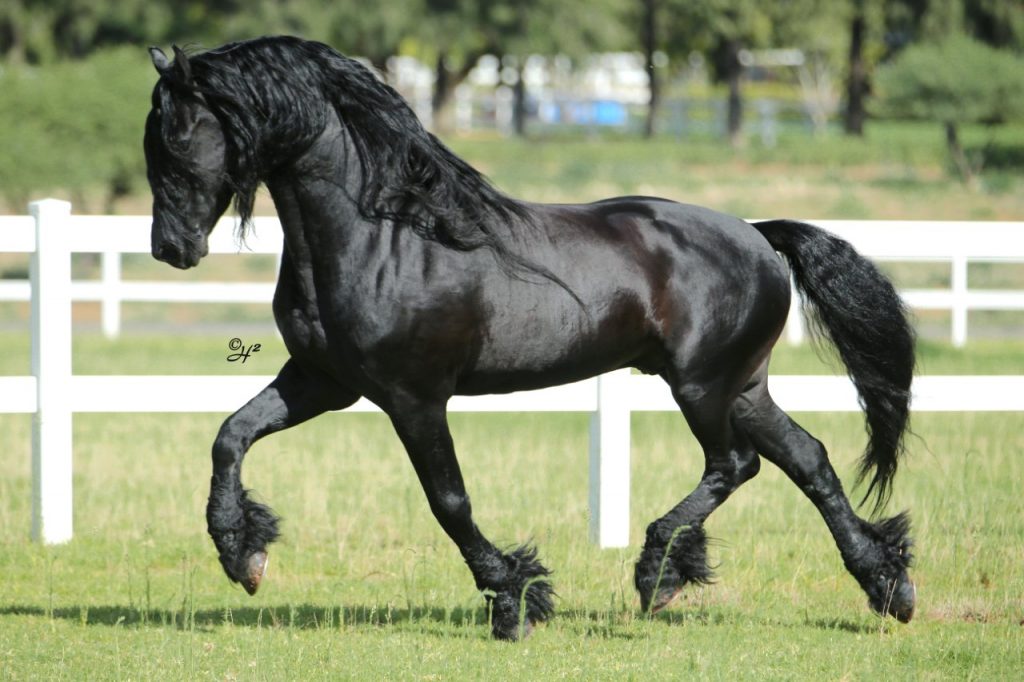 Pela Graça's first Studbook Stallion Dries 421 was pronounced the best Friesian Breeding Stallion in the World. He had the highest index scores for his offspring of 108 for conformation and 109 for sport. With these brilliant scores, Dries has been approved on his offspring. His quality breeding is seen in his son, the two times World Champion approved stud stallion Uldrik 457.
PEDIGREE:
JASPER
blk 1.58m 1995
FRIESIAN
OLOF
blk 1.59m 1988
FRIESIAN
REITSE
blk 1.64m 1978
HEARKE
PAULIENE
WIENEKE
blk 1980
LAMMERT
NISETTE
ANTJE UT DE MIEDEN
blk 1981
FRIESIAN
FRANKE
blk 1.63m 1972
JARICH
MATSJE
ELSKJE
blk 1983
TSJALLING
LYSEBET
HILTSJE VAN NES
blk 1994
FRIESIAN
HEARKE
blk 1.63m 1973
FRIESIAN
MARK
blk 162 cm 1964
TETMAN
CEVIA
GELBRICH
blk 1961
TABE
HINKE
PITERKJE
blk 1988
FRIESIAN
OEGE
blk 1977
WESSEL
WIESKE
WIESJE
blk 1980
HERKE
NIERSJE
Dries' sire, Jasper 366 is very well known in Friesian circles for his spectacular movement. This movement together with his great temperament has clearly been carried over to this son. Dries' dam; Model + Pref mare Hiltsje fan Nes took top honours in the 7 year and older section at the Central Inspection in 2001.
EXTRACTS FROM DRIES' PERFORMANCE TEST:
"A horse with a beautiful conformation ideal for riding. The walk is ample and delicate. The trot ranges from satisfactory to good and shows a moment of suspension. The stallion produces a nice extended trot. The sustained canter is lively and good overall. He performs easily and is a friendly horse."
EXTRACTS FROM DRIES' OFFSPRING REPORT:
"The offspring are breed typical horses with nicely shaped heads. The necks have sufficient length and are more than sufficiently vertical. The horses are jet black in colour and have much hair. The offspring have much length in stride in hand where the use of the hind leg movement stands out. The horses also show much suppleness. The walk has more than sufficient length in stride and is active in the hind legs. The trot has length in stride, is powerful, and has self carriage. The horses also show much suppleness and have more than sufficient balance. The canter has more than sufficient length in stride and is sufficiently uphill. The horses show self carriage and good balance in canter. The Dries 421 offspring have good talent as riding horses and are outstanding in harness with their good use of the hind leg. The horses have a good attitude and much willingness to work."
This stunning stallion was imported from Holland in July 2012 and is now at stud in Douglas, South Africa.  It is wonderful to have this magnificent creature, with his amazing movement and excellent temperament as our first stud stallion. Fresh and frozen semen will be available.
COVERINGS:
Fresh semen AI to select mares available.
For more information contact Dr Duncan Prinsloo on 0834626158