Breeder : Fam. P. Sleutels, Roggel
Jumping index : 154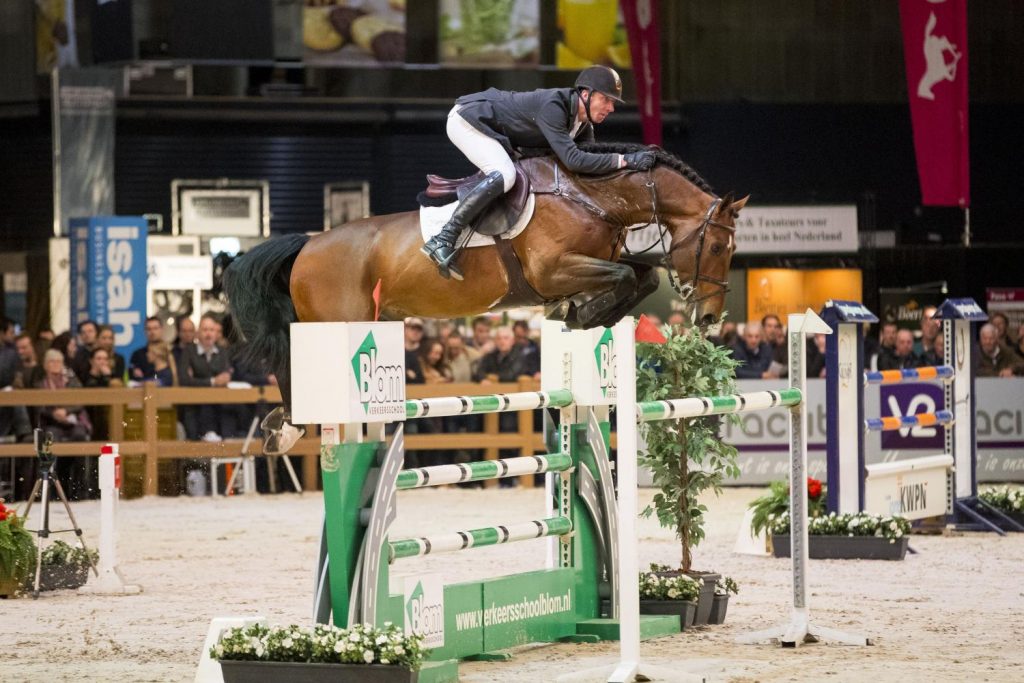 Sire Toulon, placed highly in multiple Grand Prix's and World Cup Qualifiers. Next in line is Calvados 'Keur', well-known sire of Grand Prix jumpers. Further in the pedigree of Etoulon are the stallions Le Mexico and Lucky Boy xx. These two stallions are among the documented foundation stallions of the modern KWPN horse.
Down the dam line of Etoulon are proven mares. Dam, Utareusa 'Elite, Preferent', foaled the 'Keur, Sport' mare Atureusa who competes at 1.40m level as well as the 1.45m jumper Dereusa S. Grand dam is the 'Ster, Preferent, Prestatie' mare Brigitte. She produced the Grand Prix show jumper Re Mexico and two other national level jumping horses. Brigitte is also grand dam of the Grand Prix jumper Tereusa. International luminaries from this dam line are: Illusion, Pitareusa, Itareusa, Oteusie, Broken Heart and Amareusa S.
Palmares
Etoulon was as a 3-year old Reserve Champion of the KWPN stallion inspec-tion and of the stallion test. His total score of 88.5 points included a 9 for his Reflexes, Technique, Scope and potential as a jumping horse. For his Canter and his Rideability he received an 8.5.
His amazing jumping technique and reflexes has assigned a designation for Etoulon as one of the Netherlands' most impressing and talented young stallions. Already an eye-catcher in the 4-years old stallion competitions, Etoulon won, at Enschede, Roosendaal and Zuidbroek. In Zuidbroek he received a 9,5 for his jumping technique in both rounds. At the final tally, he earned Reserve Champion of the overall competition. As a 5-year old Etoulon took the spotlight again, winning the competition in Roosendaal, ending 2nd in Ermelo and taking 5th in Zuidbroek. In the KWPN Stallion Competition for 6-year olds, Etoulon placed 2nd in the final round at 's Hertogenbosch and placed overall 3rd.
Last year Etoulon had a fantastic debut at international level under Jur Vrieling with a win in the Youngster Tour at CSI de Wolden. In the Grand Prix of Wierden he placed 7th and he was 9th in a 1.40m class at Oldenburg. In the 1.40m VHO Trofee at 's Hertogenbosch he finished in 4th place.
Offspring
Etoulon's offspring are doing extremely well. Last year, for the fourth time in a row, it was an Etoulon youngster taking the Dutch Foal Championships. In 2013, Imagine H was the Champion, in 2014 it was Javanille VDL, in 2015 it was Korinchidee and in 2016 Larusa H was Dutch Champion. The ribbon of the Dutch Mare Championship was placed around the neck of It's a Girl Gr, also a daughter of Etoulon. Later in the year she received a top score of 91 points for her IBOP. Insider VDL was approved by the KWPN and ended in 3rd place in the Champions' Ring at the KWPN Stallion approvals. I'Mulandro was winner of the free-jump competition for 3 year olds in Saasveld. Ifonia was Reserve Champion of the CK Groningen, and Ijolisa received 80 points for her IBOP.
Etoulon: talent for sport and breeding  – in the pedigree and himself