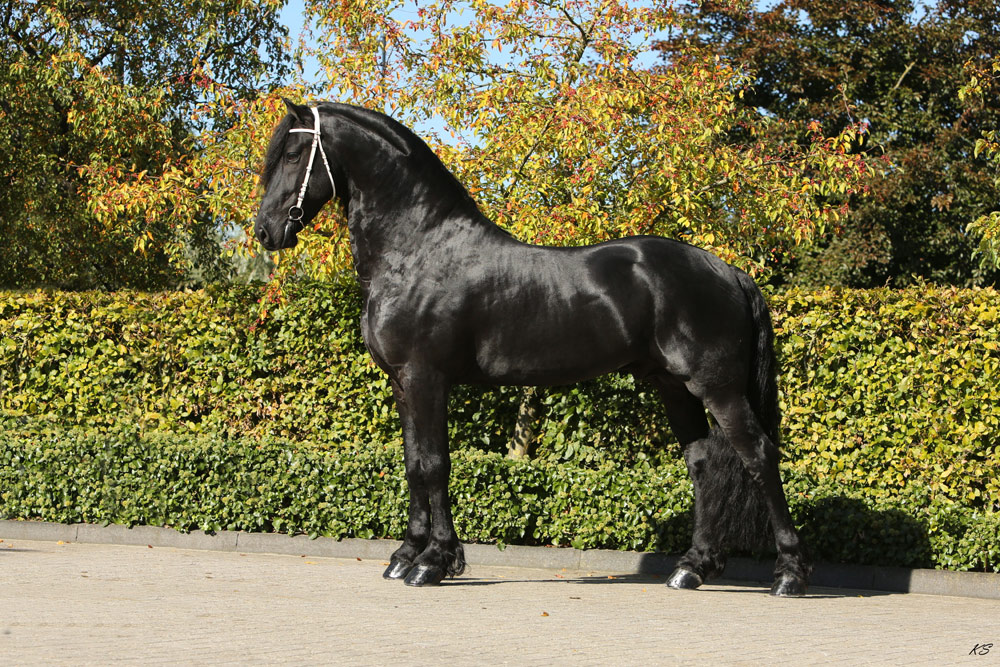 Date of birth: 2010
Height: 1.7m
PEDIGREE:
G1

G2

G3

Sire:
Doaitsen 420
v Wander 352
v Barteld 292
m Nylke S ster pref
m Wieke van Schuilenburg Model

Pref.

v Reitse 272
m Bertina ster pref
Dam:
m. Seija van de Olde Mette MoateSter
v Sape 381 sport
v Fabe 348 sport
m Olcha model pref

prest.

m Wobcke van 't Geerland ster pref
v Rypke 321
m Ourenske ster pref
The most talented young stallion from the famous breeding of the family Schut Hengelo, he has already created a great many horses with the stable name "of the Olde Moate Mette". Both tests as well as in sports these horses are very successful. Partly due to the approval of the stallion Gerben the family Schut KFPS was named Breeder of the Year for 2014. The mother of Gerben is the star mare, Seija the Olde Moate Mette. This daughter of Sape 381 earned a 1st premium several times. This mare has 4 offspring of which Gerben is the oldest. Of these offspring no less than three were rewarded with a 1st premium. The sister of this mare, Wobke the Olde Moate Mette was 2010 champion at the breeding day in Oldeholtpade. The grandmother, Wobcke 't Geerland, has now declared preference. What concerns the 161 family, with matriarch Maaike, Father Doaitsen 420 no further explanation is required.
Gerben has very good basic gaits, especially his trot is very special. Already during the 1st visit this trot was rated as "large, powerful, a lot of balance and a lot of flexibility." In the performance test of 2014 got Gerben beautiful figures. The test rig was rewarded with 83.5 points in the harness disciplines with the stallion having a lot of forward drive. Gerben is a modern stallion with a youthful look, a horse with a future, says jury chairman Bauke de Boer. The stallion is ridden by Sabine Loen Horst in dressage. We wish this horse a beautiful sports career.
The first foals by Gerben seems particularly good, Wybren fan é Hege Terp (v. Gerben) was auctioning scheme top of the Foal Auction Central Netherlands. This young colt was bought 13,500 euros. Another successful offspring is Yke MK, this son of Gerben was champion at the breeding day to Garijp.
COVERINGS:
Semen being imported by Pela Graca Friesian Stud. For more information contact Dr Duncan Prinsloo on 0834626158