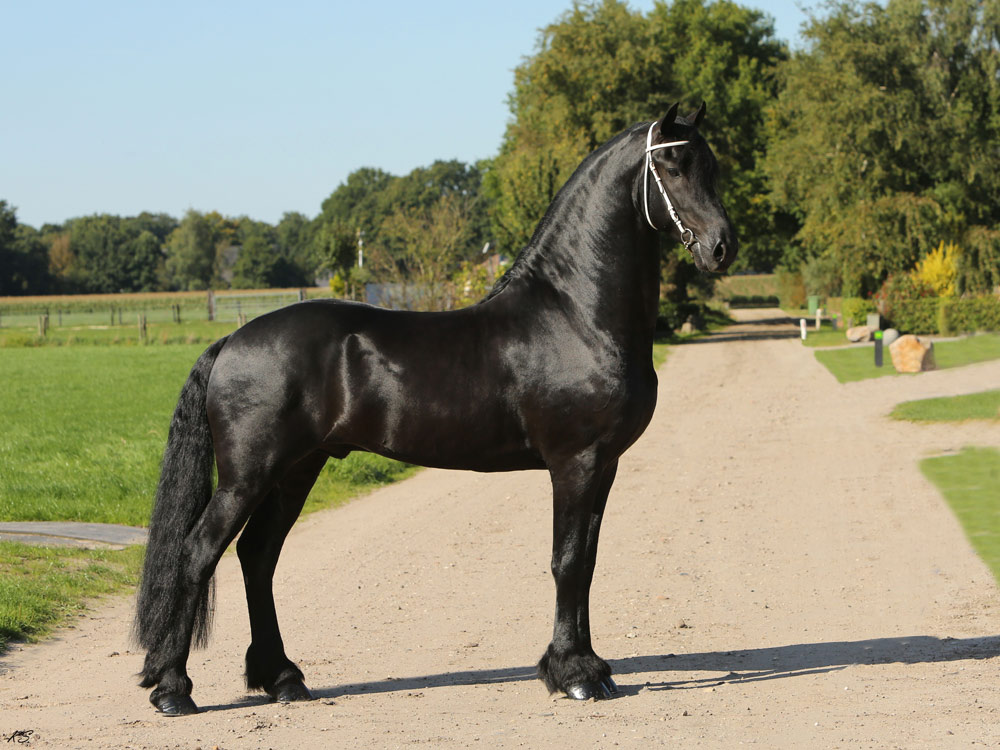 Date of birth: 2010
Height: 1.68M
PEDIGREE:
G1

G2

G3

Sire:
v Norbert 444
sport
v Tsjerk 328
Sport pref.
v Feitse 293
Stb pref.
m Wijkje
model Pref. Prest.
m Amalia-Annie
Model Pref
v Hearke 254
Sport Pref
m Cevia e
Ster Pref
Dam:
m Tsjikke Z.
Stb
v Rindert 406
Sport
v Brandus 345
Stb Sport
m Elske
Ster Pref
m Winneke J
Ster
v Fetse 349
Sport
m Jetske B
Ster
Hette has done outstandingly well on several occasions of the KFPS Hengstenkeuring, the beautiful young stallion knows how to steal all the hearts in his class. In 2014, he became champion of the young stallions, a great performance by this talented stallion. Hette had a lot of success through the autumn survey of the KFPS 2013. Jury chairman Bauke de Boer: "The saddle examination revealed that it was a good year, with one real winner in Hette. The stallion is able to perform well in all disciplines, making it the absolute top of the Central Examination in 2013 ". Hette scored 86 points under the seat, 87 points for the driving test and 87.5 points for the driving test with a 8.5 for the use of the foreleg! Hette's Sire is Norbert 444 and his mother is Tsjikke Z.(V. Rindert 406).
His grandfather, Rindert 406 is high on the "index indexes KFPS", both exterior and sports construction. The star rate is far above average. Mother Tsjikke Z comes from tribe 14. This strain dates back to 1907. The mare Wilma (born in 1968) is here been an important factor. Breeder and enthusiast Obbe Mous achieved many successes with this mare. Horses from this line appear well stamped in bringing performance horses with great work ethic, who know how to move well. Approved stallions from this line include Charles 370 and 338. Ulke Grandmother Jetske B was as a yearling champion at the Central Inspection.
The descent, good movement, beautiful silhouette and his great performances in Leeuwarden is the stallion very popular with many breeders. The first foals are much like father Hette. A huge number of 13 foals were rewarded with a 1st premium. Including the reserve champion CK 2015, Wouter van Schaefer. Marijke Folmer rides this stallion with a lot of success in dressage. The highlight of the past year: The Grasdijk Dressage Championships in Kootwijk 2015.
ACHIEVEMENTS:
Young Stallions Champion and Reserve Grand Champion 2014.
Hette 481 has at the age of 6 managed to achieve the designation Sport.
COVERINGS:
Semen being imported by Pela Graca Friesian Stud. For more information contact Dr Duncan Prinsloo on 0834626158