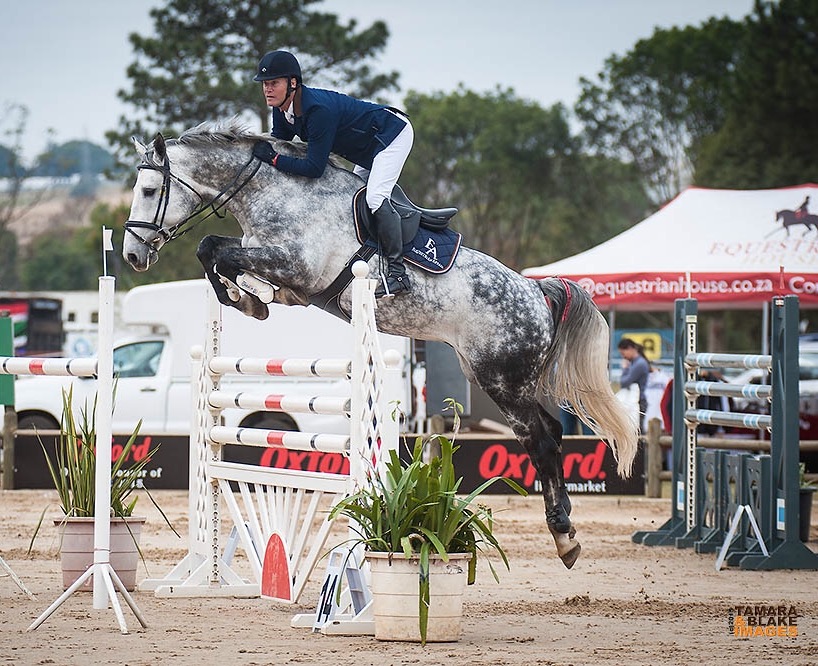 Date of Birth: 2007
Height: 1.70m
PEDIGREE:
Hummer Van Het Bevrydthof

Cardento

(Ger. Holst.)

Capitol

(Ger. Holst.)

Capitano (Ger. Holst.)

Folia (Ger Holst.)

Estelle

(Ger. Holst.)

Lord (Ger. Holst.)

Restelle (Ger. Holst.)

Eska Van Het Bevrydenthof

(Bel. BWP)

Action-Breaker

(Bel. BWP)

Heartbreaker (Hol.)

Jarme v't Steentje

Jessika

(Bel. BWP)

Fleuri Du Manor (Fra. CSF.)

Windy UT (Bel. BWP)
Hummer is a 9 year old 1.70m stallion who recently won the 1.40/1.45m Grand Prix at the Revil World Cup Qualifier. He has 13 foals on the way from last season from Rathmor Stud, Lorelock Stud,  Alchemy Stud and  retired mares Jole', Picadilly Z, and Sevens Romina. He has bookings this year from Capital Stud, Northlands and other individual mares.
Hummer shows natural technique, scope and ride ability. These attributes coupled with a superb temperament and excellent confirmation make him an excellent choice of stallion for anyone wanting to breed show jumpers.
His sire, Cardento V, a Holsteiner, won a silver medal at the world and European championships, and was team silver olympic medalist in 2004. Cardento also  won numerous Grand Prix throughout Europe. Based on the achievements of his offspring, Cardento was awarded "Elite".  At the 2014 World Equestrian Games, Cardento had the second highest number of progency competing. View Hummer's sire at: http://www.stallionguide.ca/stallions/cardento.php
His dam is by Actionbreaker, who already has licensed offspring competing. Action Breaker is the dam sire of the brilliant Cornet Oblensky.
"Action Breaker has international success coupled with global genetics, world class         canter, enormous willingness to perform and perfect technique, features which he passes onto         his offspring" (Paul Schockemohle)
COVERINGS:
Fresh semen AI to select mares available.
For more information contact Dr Duncan Prinsloo on 0834626158