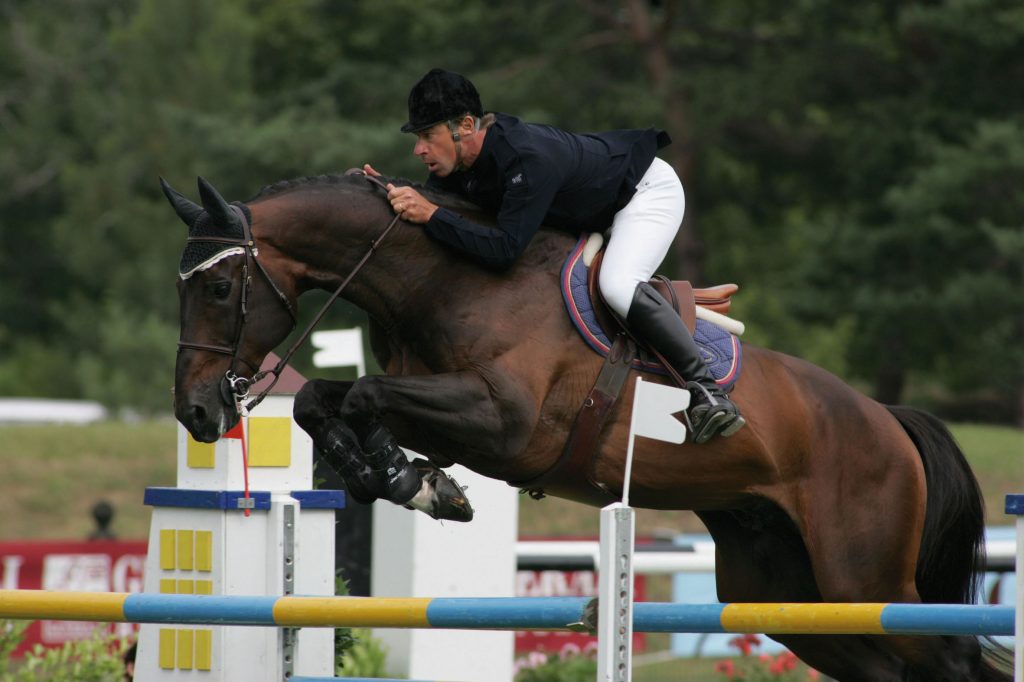 Height: 16.3hh
Year Born: 1992
Stud Fee: €1,850.00 Live foal guarantee
Kannan is the World Breeding Federation for Sport Horses (WBFSH) number 2 sire and the number 11 eventing sire. He is also the top KWPN stallion! He is a tall, rangy stallion who brings power movement and scope. He is also noted for his style, balance, temperament and good mouth.
PEDIGREE:
Voltaire (Hanoverian)

Furioso II (Selle Francaise)

Furioso (Thoroughbred)

Dame de Ranville (Selle Francaise)

Gogo Moeve (Hanoverian)

Gotthard (Hanoverian)

Mosaik (Hanoverian)

Cemeta (KWPN)

Nimmerdor (KWPN)

Farn (Holsteiner)

Ramonaa (KWPN)

Wozieta (KWPN)

Le Mexico (Selle Francais)

Rorieta (KWPN)
Kannan carries blood from all the important jumping breeds in Europe: Voltaire, Furioso, Nimmerdor, Gotthard, Farn, Le Mexico, all great progenators of modern jumper breeding.
PERFORMANCE;
Kannan's competition successes have included winning the Belgian Classic Circuit at the age of 6 in 1998 and becoming 7 year old Belgian Champion in 1999. In 2000 he made his international debut by finishing 5th in a Grand Prix. In 2003 Kannan won the Deauville Grand Prix and in 2004 he won at both Paris Bercy and Jardy as well as having many other competition successes. He was a regular member of the French team which won the Samsung Super League in 2003 and 2004. And in 2005 he became French National Champion.
PROGENY:
Kannan's offspring exhibit style and balance over a jump, along with a good mouth and character. Kannan is the sire of the 2012 Olympic Show Jumping Gold medal winner Nino des Buissonets (Steve Geurdat) and has more than 280 offspring competing at FEI level.
His most successful offspring also include Bridget, who won the bronze medal at the 2011 Pan-American Games, and the sadly deceased A Pikachu du Muze, who won the 6 year old World Championships at Lanaken in 2006 and sold at the PSI auction for €570,000. Kannan also sired the 2006 American 6 year old Champion, Amis de Kannan.
IMPORTING FROZEN SEMEN:
For more information contact Dr Duncan Prinsloo on 083 462 6158