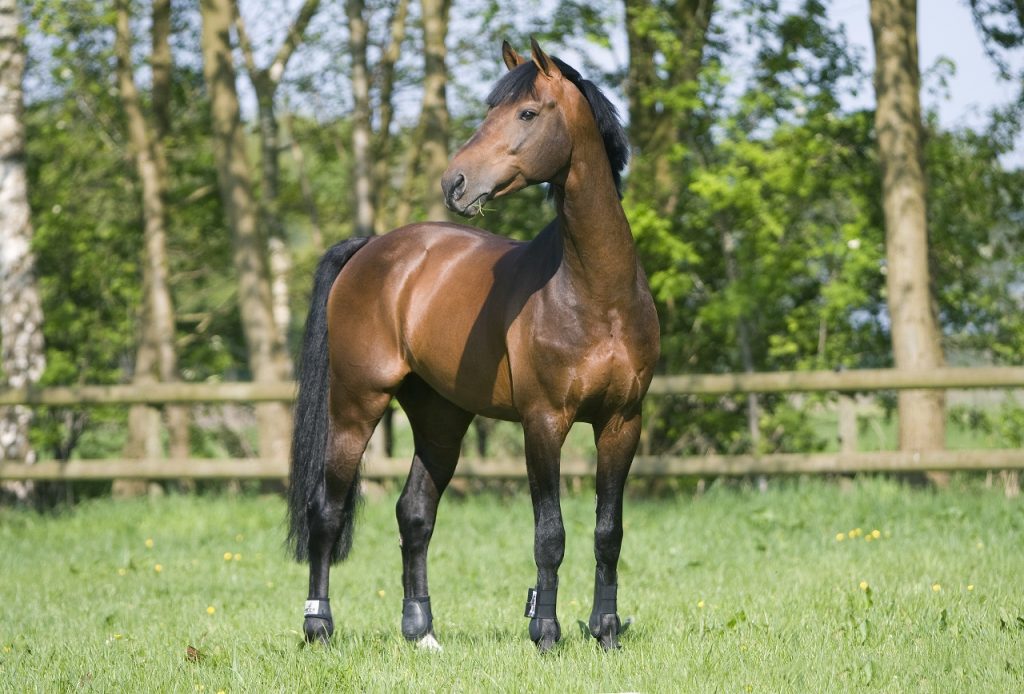 Breed: KWPN
Height; 16.3hh
Year Born: 1995
Stud Fee: €1,150.00 One dose of 6 straws
PEDIGREE:
Libero H (Holsteiner)

Landgraf I (Holsteiner)

Ladykiller (Thoroughbred)

Warthburg (Holsteiner)

Oktave (Holsteiner)

Roland (Holsteiner)

Gelonika (Holsteiner)

Jolanda (KWPN)

Lord Calando (Holsteiner)

Lord (Holsteiner)

Perra (Holsteiner)

Feinschnitt (Holsteiner)

Ahorn Z (Holsteiner)

Nevada (Holsteiner)
Numero Uno's sire, Libero H, is one of the most influential stallions in both sport and breeding. He was the winner of 51 international competitions including 10 World Cup competitions, 12 Grand Prix's and 4 Dutch National Championships. He is also the sire of more than 80 grand-prix show jumping horses.
Numero Uno's dam, Jolanda, like the Olympic show jumper Lux, is by Lord Calando. The mother line continues via the well known stallion Furnese to the mare Fernsicht (Ladykiller xx), who is a full sister to the reputable stallion Lorenz.
ACHIEVEMENTS:
Numero Uno (pref) completed his performance test triumphantly: he received a 9.0 for canter and scored an average of 8.5 for jumping components. His explosive takeoff earned him 9.0 points.
He went on to have a very successful show jumping career with European Champion, Marco Kutscher, with whom he placed in the top three internationally about 25 times.
PROGENY:
Numero Uno sired the 2012 London Olympic Team Silver medalist, Sterrehof's Tamino (ridden by Marc Houtzager), who had two clear rounds and also placed 9th individually. Tamino was also a member of the 2012 Dutch Nations Cup team in Aachen after he won the Rotterdam Grand Prix. Also on the Dutch Nations Cup team in Aachen was another Numero Uno son, Tyson (ridden by Leon Thijssen). Tyson won the 2012 Nations Cup in St. Gallen and was second in the Nations Cup in La Baule.
Numero Uno today has proved himself to be one of the leading sires in the world. He is the sire to six approved KWPN stallions as well as many champions in international show jumping, ability tests and stallion approvals.
IMPORTING FROZEN SEMEN:
For more information contact Dr Duncan Prinsloo on 083 462 6158