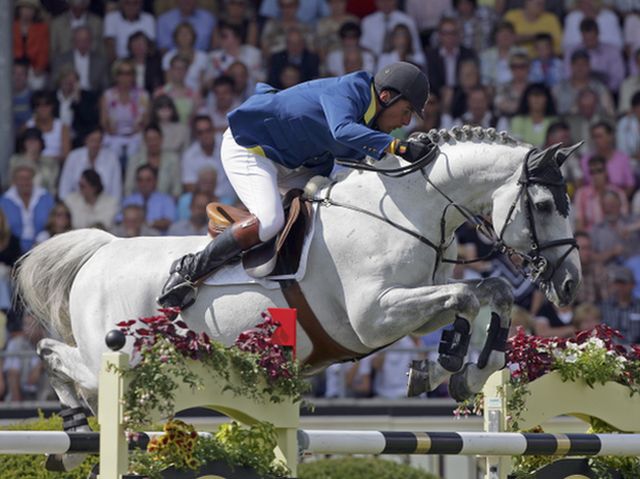 Date of Birth: 1992
Height: 16.2hh
Stud Fee: €1,200.00 Live foal guarantee
A great looking stallion with size, musculature, movement, temperament and scope. Definitely an improver with the strength of Darco and the great mind of Parco.
PEDIGREE:
DARCO
dkb/br 171 cm 1980
BELGIAN WARMBLOOD
LUGANO VAN LA ROCHE
ch 163 cm 1963
HANOVERIAN
LUGANO I
ch 162 cm 1954
DER LOEWE
ALTWUNDER
ADLERFLUT
ch 1952
ABLEGER I
DICHTERSPIEL
OCOUCHA
1968
BELGIAN WARMBLOOD
CODEX
dkb/br 164 cm 1962
COTTAGE SON
ETTAL
LATOUCHA
1965
FAUST
ATOUCHA
ILONA VAN HET CARELSHOF
BELGIAN WARMBLOOD
ATTACK Z
gr 1980
BELGIAN WARMBLOOD
ALME
br 16.1 1966
IBRAHIM
GIRONDINE
UNDINE
gr 1974
URIOSO
SIEGHILD
ELEONORE
WESTPHALIAN
DONNERSBERG
1974
DOUGLAS
FABULA
FARA
FRUEHLING
RAMONY
Parco is by one of the world's greatest jumping stallions, Darco. This outstanding stallion won many World Cup Grand Prix's and ended 7th at Barcelona Olympic Games. He's a son of Lugano van Laroche, one of the great sires of Belgiun breeding. Darco, has produced among the best : Sapphire : 6th Beijing Olympic Games and 7th Aachen World Equestrian Games, Trudo King Darco : Atlanta Olympic Games, Belgium Champion and 5th at St Gall European Championships. He has also produced the stallions : Non Stop, Ogano Sitte, Winningmood vd Arenberg.
ACHIEVEMENTS:
Parco is undoubtedly one of the the greats. Ridden by Ludo Philipaerts, his competition record is made up of a list of wins and placings. At 8 years old Parco was Belgium Show Jumping Champion, and at 9 he was 9th on the list of best show jumpers worldwide.
Parco competed at and was placed in every major competition, and his achievements include:
4th – 2003 European Championships
7th – 2003 World Cup Final
4th – 2004 Athens Olympics
9th – 2005 World Cup Final
1st – 2006 Global Champions Tour
9th – 2006 World Equestrian Games
PROGENY:
Parco started breeding fairly late at the age of 8 years. His oldest offspring are now competing very successfully at international Grand Prix level. From his first crop he has a World Equestrian Games and Olympic Competitor!
There are currently in excess of 50 Parco offspring in the FEI international lists. Of his most successful are Bufero van het Panishof (Dirk Demeersmen) who placed in the top 25 at the 2012 London Olympics, and Angel v/d Hoendrik, the 2004 Belgium 4 YO Champion.
IMPORTING FROZEN SEMEN:
For more information contact Dr Duncan Prinsloo on 083 462 6158