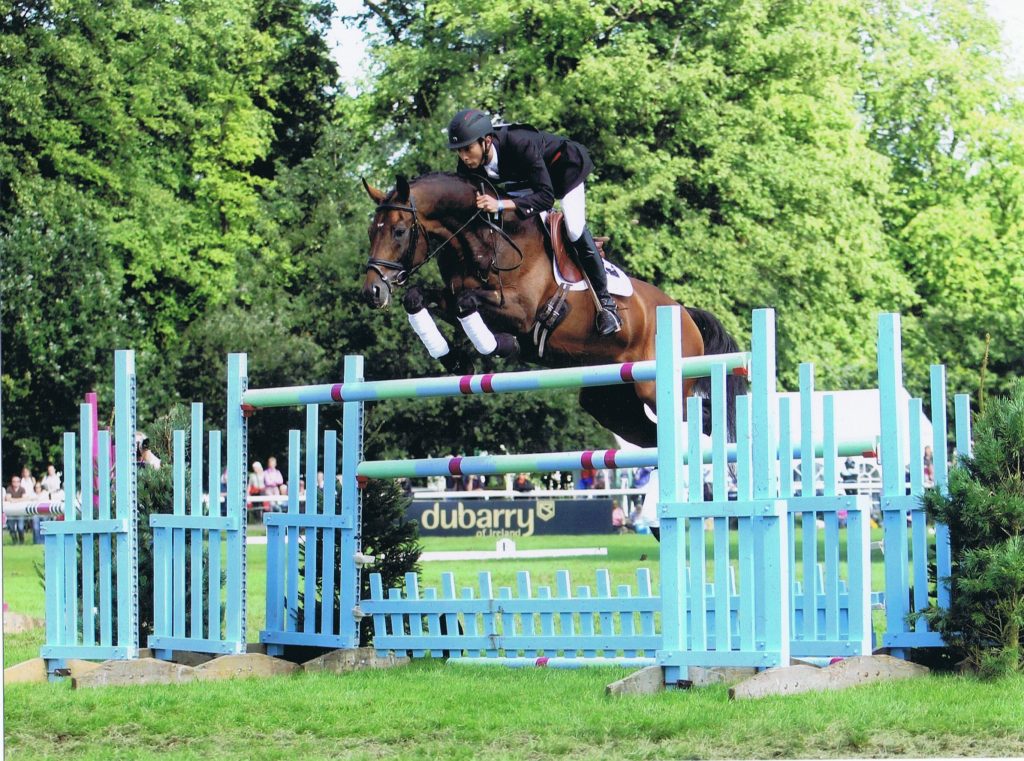 Date of Birth: 1999
Height: 16.2hh
Stud Fee: €800.00 Live foal guarantee terms
Royaldik is the perfect modern blood-type stallion to breed horses with all-round potential.
PEDIGREE:
ROYAL DIAMOND
gr 1.68 m 1994
OLDENBURG
RUBINSTEIN I
blk 1.70 m 1986
WESTPHALIAN
ROSENKAVALIER
dkb/br 171 cm 1980
ROMADOUR II
DIVA
ANTINE
b 163 cm 1972
ANGELO
DODONA
ELEKTIA V
gr 1.66m 1975
OLDENBURG
INSCHALLAH
gr 16.2 1968
ISRAEL
RESENA
ELEKTIA
blk 1.63m 1962
CHRONIST
ELEKTIRA IV
HERKA
ch 1990
THOROUGHBRED
CARAMEL
br 168 cm 1970
THOROUGHBRED
WIESENKLEE
b 16.1 1961
CHIEF
WIESENBLUETE
CRANORA
1955
CRANACH
OREADE
HERALDIKA
blk/br 1971
THOROUGHBRED
CALE
blk/br 1963
TANERKO
CALECHE
HELGA
b 1966
MARSEL
HEJA
Royaldik has a superb pedigree, combining the superb Royal Diamond with the full sister of world number one eventing stallion Heraldik xx.
Royal Diamond is famed for the ridability of his offspring, and he brings the super blood of Rubinstein and the Anglo Arab Inschallah. Royal Diamond won the stallion performance test, the Federal Championships and countless Prix St. George and Intermédiare I competitions. At the age of nine, he already successfully participated at Grand Prix events.
Heraldik xx is one of those very rare stallions who has had offspring compete at the highest levels in all three disciplines. His eventing offspring include Olympic Gold medallist Butts Abraxas, Butts Leon who came 2nd at Badminton in 2010 and Happytimes who won Chatsworth in 2010. One of Heraldik's offspring also competed in the European Dressage Championships in 2009 at Windsor.
ACHIEVEMENTS:
Royaldik sensationally won both the 30 and 70 day tests in Neustadt-Dosse with a total score of 144.8. Of this combined score, he scored 149.8 for his dressage and 126.6 for jumping. These are outstanding scores by any measure. He has successfully participating at dressage and show jumping competitions up to M**-level.
In 2002 Royaldik was German Federal Stallion Champion.
PROGENY:
Royaldik's offspring are very modern in type, exhibiting elegance and blood, with superb movement and jump.
The five year olds are already noted by the South German studbooks, for their rideability and super temperaments. Royaldik has already had a South German vice-champion from his first crop.
IMPORTING FROZEN SEMEN:
For more information contact Dr Duncan Prinsloo on 083 462 6158